June 21 - October 10, 2022 | Harrison & BorEn Streets, Seattle
Walking Tour: July 20, 2022 6-9pm - Hear from the artists of eight South Lake Union art installations
Day by Day By Day,
mixed media installation, 60x240x3 inches, 2022.
Day by Day by Day

 represents a creative journey, one that began in 2018 and continues today. It includes over 1400 images created through my daily art practice. Shown all together, we can see growth over time in a non-linear way, a reminder of all the steps it takes to get from one point to another.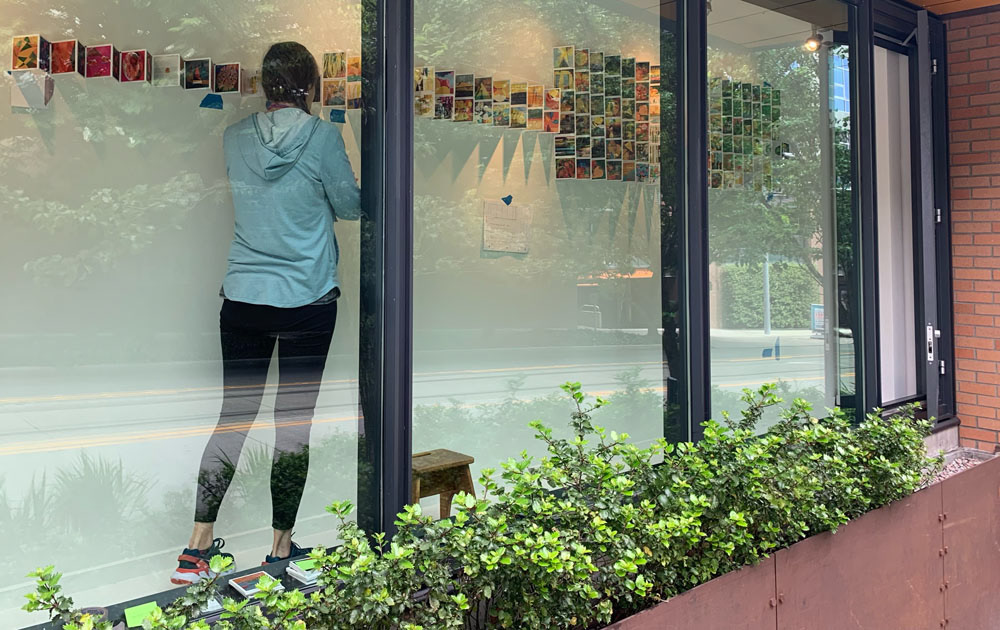 Q&A
WHERE DOES THE ARTWORK COME FROM?
The source material is my 
Daily Art Habit
series. I make a digital painting every day. This is a practice I started in 2018 to reclaim my creative energy after a long hiatus from art. Since then, it has grown and evolved into a time-based series of digital paintings – now built over more than 1500 consecutive days' work.
HOW DO YOU MAKE THE ART?
These are produced by hand with an Apple Pencil on an iPad Pro using the Adobe Sketch and Adobe Fresco apps.
HOW IS IT ORGANIZED AND INSTALLED?
This installation is organized primarily by color. The works are printed as 4x4 inch postcards, sorted, and bound into accordion books of 8-12 cards each, which then are attached directly to the wall with map pins.
HOW LONG DOES THAT TAKE?
It took nearly twelve hours solo effort to install the work in this location. Not so long compared to the than four years it took to make the individual pieces of art! I estimate the process of sorting the images and binding the accordion books took about 50 hours.
HAVE YOU EVER MISSED A DAY?
Yes – I've missed seven days over the course of the past four plus years. I record the days I've missed with an acknowledgment piece.  You'll see them in the installation.
IS IT FOR SALE?
I produce fine art prints of the individual works in various editions and sizes for sale. I also accept commissions for multi-piece constructions ranging in size from 100 to 1000+ pieces.
Check out my shop

t
o see available work, and/or
contact me
 to inquire about a specific piece or commission.